Gender-Based Violence During Khmer Rouge Regime
2008/05/27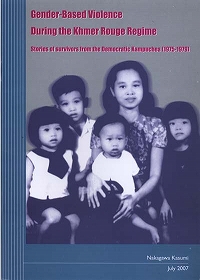 2007年7月発行
単価 ¥ 500 円 (本体価格: ¥ 500 円)
(送料、手数料別)
この商品は売り切れました
[内容説明]
Stories of Survivors from the Democratic Kampuchea (1975-1979)
Written by Nakagawa Kasumi
Published in July 2007
Gender-based violence, such as rape and prostitution for survival, was rampant during the Khmer Rouge regime. However, it had hardly ever been discussed openly among the public. This is partly because of the Cambodian culture to blame victims of sexual violence that they provoke crimes. Custom also forces them to remain silent to keep the reputation of the family. In addition, a common understanding among the people that all victims of such crimes were already killed impedes to reveal the real magnitude of such crimes during the regime.
With encouragement from Asia-Japan Women's Resource Center and financial supports from Open Society Institute (OSI), the author conducted research into gender based crimes in 2006 with Cambodian Defenders Project (CDP) and this report is based on findings from it. The research team initially interviewed 1,500 people who had been over 10 years old during the regime and then approximately 100 victims and witnesses of the gender crimes were interviewed for documenting their untold stories.
This publication is the first documentation to collect voices of survivors who broke the 30 years of silence. A number of victims of rape and other gender-based violence spoke out how they were targeted for crimes and how it happened. During the regime no marriage was free except those who enjoyed privileges as Khmer Rouge soldiers; they might have been allowed to choose their spouses. Many victims of forced marriage, both male and female, spoke out how they were instructed to get married to someone they had never known. Sexual intercourse was compulsory in a marriage and rape frequently occurred. The stories of victims are told in this publication in order to reveal the existence and extent of gender-based violence in the Khmer Rouge regime.
[CONTENTS] 1. Introduction
2. Kumer Rouge Regime: Background
3. Forced Marriage and Marital Rape
4. Rape
5. Other Sexual Assaults
6. Conclusion