【Voices from Japan】No.05 Men and Prostitution – Research Project on Men and Prostitution
2021/09/03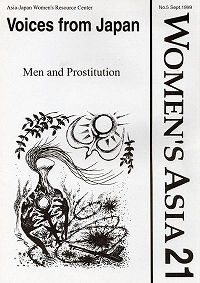 Publication Date: September 1999
Price: ¥1,000 (Shipping fee not included)
Please contact ajwrc@ajwrc.org for purchase and inquiries.
We accept card payments only.
[Contents]
Why Men Buy Women?
Survey
Continuing Trends in Men's Views on Prostitution ERIKO IKEDA
Perceptions on Buying Sex in Okinawa NORIYUKI SUZUKI
Media
Pimping Media: Current Information on Sex Work MASAYO NIWA
No More Pornographic Fliers! YASUKO TANAKA
Girl Child
Teenage Prostitution: "Confessions of Buyers & Sellers" TOMOKO OHJI
Child Pornography on the Internet SAWA OMORI
Child Prostitution Bill: ECPAT and Japan JUNKO MIYAMOTO
How Effective Is the "Prostitution Ordinance"?
Opinion
Refuting the Legitimacy of the View that
"comfort women" were Licensed Prostitutes YUKI FUJIME
Men's Talk on Prostitution
Asian Women in Japan
The Situation of Foreign Women Living in Hokkaido NORIKO MAKISHTA
Thai Women Who Can Not Go Home RUTSUKO SHOJI
Stateless Children Increasing KEIKO YAMASAKI
Asian Brides Change Rural Communities YOKO ITAMATO
Reports
Women's International War Crimes Tribunal in 2000
Impunity of Wartime Sexual Violence Must be Ended YAYORI MATSUI
Okinawa Women Act Against Military Violence SUZUKO TAKAZATO
Victory against "Thai Prostitution Handbook" KEIKO OHTSU
Report form Maligaya House for Japanese Filipino Children CITIZENS' NETWORK FOR JFC
Toward Women 2000: Japan NGO Alternative Reports