【Voices from Japan】No.07 Violence against Women Battles on Women's Body in Japan
2021/09/03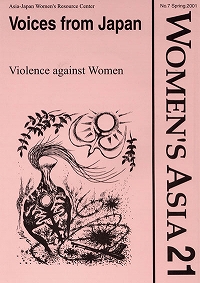 Publication Date: Spring 2001
Price: ¥1,000 (Shipping fee not included)
Please contact ajwrc@ajwrc.org for purchase and inquiries.
We accept card payments only.
[Contents]
Violence against Women in Japan
Wartime Sexual Violence and Japan's Sexual Violence Today Rutsuko SHOJI
Men's Violent Sexuality and Recordings of Rape as Pornography Yusaku TSUJI
(Interview) The Women's Shelter's Perspectives on violence against Women Keiko OHTSU
Nationalism and discrimination against Women Chieko AKAISHI
Searching for People's Security
– Report from "Okinawa International Forum, 2000" Kaoru AOYAMA
Women's Body: A wager of Power Politics
Reproductive health and Rights Movement in Japan Today Yumiko OHASHI
A Modern Version of "Breed and Proliferate"?
-Problems in the Bill for counteracting the declining birth rate Yuriko ASHINO
Feminist plotting Birth Rate Decline?
– An Overview of Sexist – Nationalist Journals in Japan Hisako MOTOYAMA
What Do Sterile Women wish for – New Report on Sterility Junko KURIHARA
Report; Women's Action in Japan
Women's International War Crimes Tribunal on Japan's Military Sexual Slavery
-Success Brought by the Power of Women's transnational Solidarity-
Yayori MATSUI
Feminist Teaching in Japan:
– Empowering students to resist violence against women Debbie LUNNY
Report "Chikan" – Harassment in the train Satoko SANDO
Women- only cars on trains Amika HARADA
Research on Campus Sexual Harassment Chisato SHIBA
Are you satisfied with your way of living? – Live your true Self! Jun and Stephanie!