【Voices from Japan】No.11 Gender and Law
2021/09/03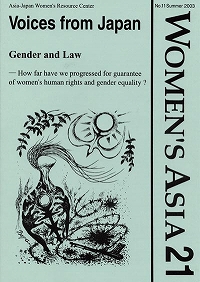 Publication Date: Summer 2003
Price: ¥1,000 (Shipping fee not included)
Please contact ajwrc@ajwrc.org for purchase and inquiries.
We accept card payments only.
[Contents]
Gender and Law- How far have we progressed for guarantee of women's human rights and gender equality?
Features
To Introduce Gender-Sensitive Perspective into the Law and Judicial System Michiko Nakajima
The Basic Law for a Gender-Equal Society and Us Yukako Yanagimoto
Has the Equal Employment Opportunity Law Protected Women Worker?
Mieko Takenobu
Misguided Maternal Protection Law Yukako Ohashi
The Reality and Law Governing Non-Japanese Women Living in Japan
Keiko Ohtsu
The View from Okinawa: Women and US Military Bases Takako Motonaga
Criminal Law and Violence against Women: Rape in a Gender Equal Society Tomoe Yatagawa
Recent Events in Japan
29th Committee for the Convention on the Elimination of All Forms of Discrimination against Women – Reports from Japan Hikaru Kasahara
A Lawsuit against the Governor of Tokyo, Mr. Shintaro Ishihara Kyoko Tanaka
The Urgent Appeal Asia-Japan Women's Resource Center
Demand to Discard a Bill for a Population Policy Tomoko Yaezu
A Lawsuit against NHK (Japanese Broadcasting Corporation) Amane Noguchi
Three National Emergency Bills and Japan's assistance for the Reconstruction of Iraq Kuniko Funabashi
Racism in Education: Discrimination against Korean Schools Young Kim
Manipulation Hidden Behind "Kokoro no Nooto(Notebook of My Mind)"
And Government Intervention in Children's Minds Hikaru Kasahara
What has been "Achived" with the Bill of Gender Change for People with "Gender Indentity Disorder"? Makiko Matsumoto
Feminist Art Activism Questioning Gender and Militarization Hisako Motoyama