【Voices from Japan】No.22: Women with Disabilities in Japan
2021/09/03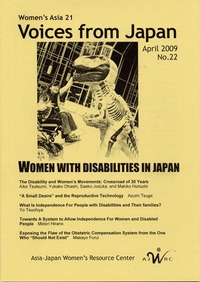 Publication Date: April 2009
Price: ¥1,000 (Shipping fee not included)
Please contact ajwrc@ajwrc.org for purchase and inquiries.
We accept card payments only.
[Contents]
Women with Disability in Japan
The Disability and Women's Movements: Crossroad of 30 Years
By Aiko Tsutsumi, Yukako Ohashi, Saeko Joduka, and Mariko Horiuchi
"A Small Desire" and the Reproductive Technology
By Azumi Tsuge
What Is Independence For People with Disabilities and Their Families?
By Yo Tsuchiya
Towards A System to Allow Independence For Women and Disabled People
By Midori Hirano
Exposing the Flaw of the Obstetric Compensation System from the One Who "Should Not Exist"
By Masayo Furui
News and AJWRC Activities
Promoting and Protecting Women's Rights in Japan: UN Committee Finds Little Progress
Nationality Law Amended to Address Discrimination Against Children Born Out of Wedlock
Arrested Just For A Tour of Aso's Residence?
"For women"—- A Cenotaph of Comfort Women" Has Finally Raised
Rape Case in Okinawa Dismissed in U.S. Military Court