【Voices from Japan】No.23: Tackling "Invisible" Women's Poverty in Japan
2021/09/03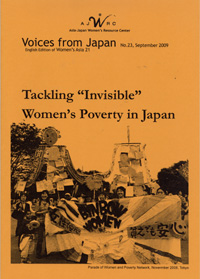 Publication Date: September 2009
Price: ¥1,000 (Shipping fee not included)
Please contact ajwrc@ajwrc.org for purchase and inquiries.
We accept card payments only.
[Contents]
Tackling "Invisible" Women's Poverty in Japan
Security in Solidarity: as Women and Poor
The First Ever Women and Poverty Network Founded in Japan
Impoverishment of Women Caused by Gender Discriminative Policies: Market, Welfare, Family and Women in Poverty
by Chisa Fujiwara
What is a Social Safety Net for Women?
Interview with Junko Suzuki
Women Workers Caught in the Economic Crises
by Midori Ito
The Meaning of Living in Poverty for Migrant Women and Their Families
by Motoko Yamagishi and Leny Tolentino
Poverty and Women with Disabilities
by Noriko Seyama and Kumiko Usui
Women's News from Japan
The New Foreign Resident Administration System may Torment Immigrant Women
City Councils Call for the Government Sincere Apology to "Comfort Women" Victims
Rightist Group Violently Attacked "Comfort Women" Exhibition
Japanese Government Paid $450,000 to Prevent "Comfort Women" Resolution in the U.S.
80% of Crimes by American Military Personnel Left Unprosecuted
Yet Another Sexist Remark from Tokyo Governor
Protecting Rights of Sexual Violence Victims in the Jury System
Major activities of AJWRC (April – September 2009)