【Voices from Japan】No.31 New Poverty afflicting Women ― In the Enhancement of Policy of the "New Ie (Family) System"
2021/09/03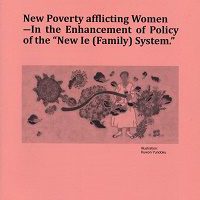 Price: ¥1,500 (Shipping fee not included)
Please contact ajwrc@ajwrc.org for purchase and inquiries.
We accept card payments only.
[Contents]
FEATURE:New Poverty afflicting Women ― In the Enhancement of Policy of the "New Ie (Family) System
Opening note for this special edition
By Mieko Takenobu
[Dialogue] New Poverty afflicting Women
By Mieko Takenobu & Kaori Katada
Poverty Spiral among Women and Children Forced to Flee from Fukushima after the Nuclear Meltdown
By Chia Yoshida
Hidden Poverty of Women Living with Their Parents:Case Examples of Young Single Women
By Yuko Iijima
Foreign Migrant Women and Poverty: An Interview with Motoko Yamagishi Compile
WOMEN'S NEWS IN JAPAN
Suraj Case: The State's Responsibility was Not Recognized by the Tokyo High Court
Separate Surnames for Married Couples by Choice: Response to Japan's Supreme Court's Grand Bench Decision
Missing Woman Found Dead in Okinawa. Former U.S. Marine Suspect Arrested
The Release of the Concluding Observations on the Combined Seventh and Eighth Periodic Reports of Japan by the United Nations Committee on the Elimination of All Forms of Discrimination against Women (CEDAW)
Article 24 Campaign Begins to Prevent the Amendment of Article 24 by LDP
Sexual Crime Committed by Group of Five University Students
Lawyer Mikiko Otani Elected as a Member of the Committee on the Rights of the Child
Hitotsubashi University Outing ― Holding a Memorial Gathering for a Lost Graduate Student
Libel against Daughter of Takashi Uemura ― In the Ruling by the Tokyo District Court, She Won the Lawsuit
AJWRC Information
Symposium Commemorating the 20th Anniversary of the Foundation of the Asia-Japan Women's Resource Center: "Peacebuilding in East Asia ― Networking by Feminists"
Gender Café
Give it some Thought: Taking a Cue from the Election in Summer 2016 ― What does "Family" mean to you?
Major Activities of AJWRC: April 2016 to March 2017